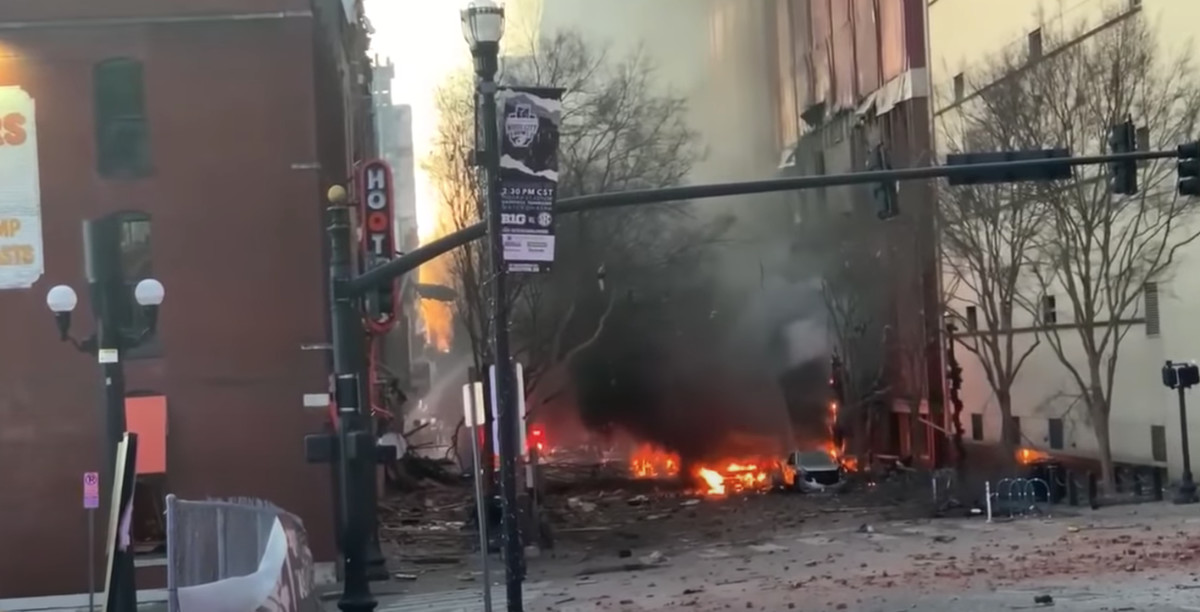 An explosion rocked downtown Nashville on Christmas morning.
Police first responded to reports of a "suspicious vehicle" being parked outside an AT&T building downtown shortly before 6 a.m. local time, according to The Tennessean. When police arrived, per the report, they alerted the department's hazardous devices unit. That unit was on the way to the scene when the explosion occurred. Around 6:45 a.m., additional police and firefighters responded to an area near Second Avenue and Commerce Street.
"This appears to have been an intentional act," the Metro Nashville Police Department said in a statement early Friday. Streets in the area were being closed down as police, the FBI, and ATF officials investigated the explosion.
"All my windows, every single one of them got blown into the next room," Nashville resident Buck McCoy told the Associated Press of the early morning explosion, which damaged multiple buildings. "If I had been standing there it would have been horrible." According to McCoy, who observed as many as four different cars on fire at the scene, the explosion "felt like a bomb."
Other local reports, including from WKRN, said an RV may have exploded at the scene. At the time of this writing, three people were confirmed to have been taken to the hospital with non-life threatening injuries.
"The hazardous devices unit was en route to the downtown area when an explosion linked to that vehicle took place at 6:30," a police spokesperson told reporters near the scene. "The explosion was significant, as you can see from the street on Second Avenue. Now the police department and its federal partners the FBI and the ATF are conducting a large-scale investigation to this point. We do believe that the explosion was an intentional act."
A statement from Nashville's Emergency Operations Center called the explosion "an intentional bombing incident." In an update to reporters on Friday, a police spokesperson said officers were first called to the scene following a report of shots fired. Mayor John Cooper also addressed reporters after visiting the scene.
Police also said residents should expect a shutdown of sorts for the downtown area, including traffic restrictions, while the investigation continues.
https://www.complex.com/life/2020/12/police-say-christmas-day-explosion-nashville-likely-intentional-act